Spring is in the air! Time to go for a picnic, run or sunday stroll in Park Spoor Noord. A quiet and cool urban landscape park in the North of Antwerp that has become one of the most popular places in Antwerp.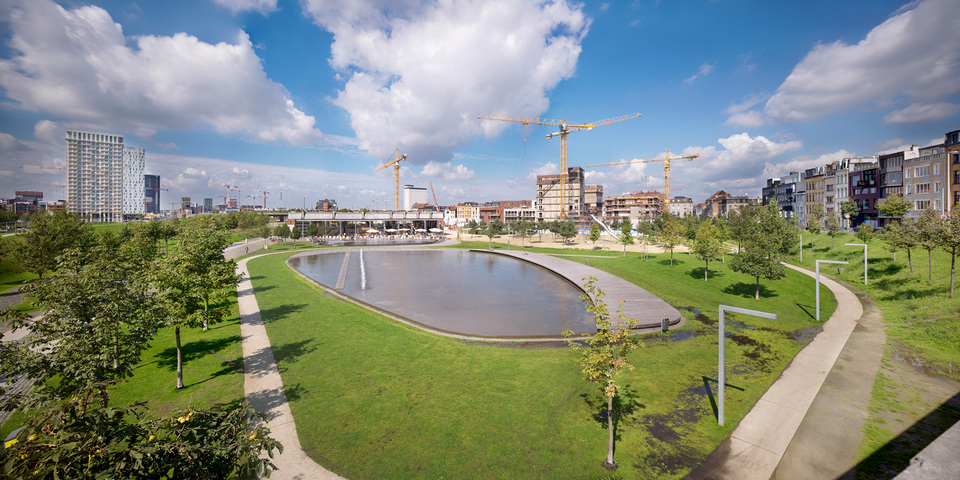 In 2005 the construction of Park Spoor Noord started on a former railway yard. Today,  three old railroad buildings and two water towers are saved. The park is most frequently used by locals and sport fans, but in fact there is enough space for everyone. You can always boost your engery level in Park Spoor Noord. There are ping pong tables, a basketball court, a skatebowl and petanque court. For the foodies, public barbeques are available and there is even a famous summer bar – Bar Noord – where you have a wide selection of salads and homemade pizzas.
In fact, not a lot of people do know or believe that Park Spoor Noord was built with sustainable and environmentally conscious concepts in mind. We will convince you: Park Spoor Noord is an ecological park! But what makes it so ecological?
First of all, only FSC wood is used in Park Spoor Noord. FSC stands for Forest Stewardship Council, an international council for sustainable forest management. You can only get the FSC label when wood comes from responsible forest management with focus on the environment, the local people and labour rights.
Besides that, for parts of the new walkway in the park, they reused old material from the former railway. For example, a cobblestone path was laid with the already existing cobblestones.
Third, the park was furnished with LED lighting. Also, the lightening posts only shine in places where visibility is important for walkers and cyclists.
An adapted drainage system was designed for Park Spoor Noord to allow as much rainwater as possible to seep in the soil. In case there is a huge rainfall, the rainwater can flow to a few deeper zones in the park where the surface is extra permeable. When there is a lot of rain, there will be puddles. The advantages of this system are: (1) the sewerage is not charged extra, and (2) clean rain water is kept seperate from dirty sewage watere and is therefore not unnecessarily brought to water treatment systems.
Last but not least, in order to have a beautiful tree stock, a mix of slow-growing trees and fast-growing trees that are getting less old was being planted. After a few years, the fast growers were removed and transplanted as much as possible. In that way, the slow-growing trees get the chance to grow into healthy, massive and distinctive trees, which can grow for more than hundred year.
Only one address: Den Dam, Schijnpoort (Antwerp)
By Anouk Verniers & Rin Verstraeten (antwerpmeetssustainability@zoho.com)